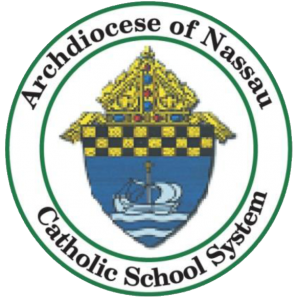 Dear Alumni,
I thank you for taking the first step towards reconnecting with your Catholic School.  The Bahamas Catholic Board of Education is committed to its mission of the holistic formation of young people.  Towards achieving this mission CBE encourages the involvement of the community in Catholic Schools and invites members, as stewards, to share their gifts.
Maybe you have fond memories of receiving a noon lunch of a cinnamon bun, a carton of milk and a multivitamin pill from the Sisters at Our Lady's School. You may recall with delight running alongside Sister Russell's bicycle at Holy Redeemer School. The fact is that every alumnus has a vivid memory of their time spent at Catholic Schools.  For me, it's my Xavier's Grade 3 teacher Mrs. Dean and participating in the daily competition of seeing who could catch the most flowers falling from the jacaranda tree in the schoolyard.
During its one hundred and twenty seven (127) year history, Catholic Schools have touched the lives of thousands of Bahamians throughout our islands. Over the course of its history Catholic Schools have faced many challenges. But despite it all the system has maintained its Catholic identity and a high standard of quality education.
CBE is proud of its origin, whose roots emerged "as a response to the needs at that time for our people to be educated" (S.O.A. Isaacs, Former Chairman, Catholic Board of Education). The Catholic Board of Education is committed to maintaining reasonable tuition rates so that as many young persons as possible have access to Catholic Education. As costs increase, CBE must seek engaging and creative means of raising sufficient funds and simultaneously maintain its price points.
CBE envisions a revitalization of Catholic Schools, while holding firm to the philosophy of The Catholic Board of Education that instruction must be rooted in the spiritual and moral precepts of the Church. To ensure the viability of Catholic Schools in The Bahamas CBE will focus on four key areas: increasing the capacity of leaders, teachers and support personnel; increasing student achievement; improving financial viability and improving home, school, alumni and parish community partnership.
Over the next few months CBE will launch an exciting network to communicate consistently with alumni, parents, and friends of Catholic Schools.  There are also plans to raise awareness of CBE and its schools amoung our stakeholders and the general public.
CBE needs your help to ensure the continued growth and sustainability of Catholic Schools in The Bahamas.  Please do not hesitate to contact me to find out more about how you can support your school. I look forward to working with you towards the development of Catholic Education for future generations.
Regards,


JANELLE ALBURY
Director of Development
Catholic Education Center
eMail: jalbury@cec.edu.bs