Meet Our Curriculum Officer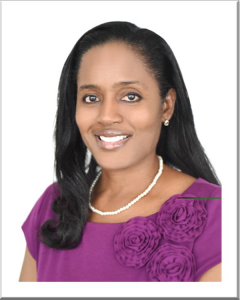 A native of the island of Grand Bahama, Alexandria Roberts-Bowe obtained a Bachelor's degree in Elementary Education with a minor in Theology from The College of St. Benedict, St. Joseph, Minnesota and a Master's degree in Curriculum and Instruction from the University of St. Thomas, Minneapolis, Minnesota. Mrs. Bowe began her teaching career in Catholic education in 1994 at St. Thomas More School, Nassau, Bahamas as a requirement for her Bachelor of Arts Degree. It was this experience that solidified her understanding that the ideals of this system were consistent with her philosophy of education. Therefore, in the spring of 1994 she made application and was interviewed by then Superintendent of Catholic schools, Sister Mary Benedict Pratt, OSB. She was assigned a teaching position at Mary, Star of the Sea School, Freeport, Grand Bahama during the fall of 1994.
During her ten year period at this school, Mrs. Bowe was highly involved in all the school activities. Her love for her community motivated her to become involved in the Scouting organization at the school, where she served as a Cub Scout leader for her entire tenure. Her commitment and dedication to the Scouting Association of the Bahamas propelled her to the position of Assistant Commissioner of scouts in Grand Bahama in 2002.
While at Mary, Star of the Sea, Mrs. Bowe coordinated many school events and served as sixth grade coordinator. In September 2004, she was appointed principal of St. Vincent de Paul School in Hunter. Not on the job for a month, the island of Grand Bahama was hit with two devastating hurricanes just weeks apart. As a new principal, the school faced what many would deem a mighty blow with the severe damage to the southern block of the school inclusive of grades 3-6 and the school's office. Though this was a slight set back, it was not a deterrent. Mrs. Bowe remained focused and was determined to build relationships with teachers, students, parents and the entire Hunter community in an effort to garner support and build on the great legacy of Catholic Education and St. Vincent de Paul School in particular. While there, parenting workshops were a key initiative. She encouraged the development of a male mentoring program for all boys, but particularly those in the upper primary. Additionally, she reintroduced the scouting program to the school and supported initiatives which encouraged members of the Hunter community to come into the school and offer their time and talents. While at St. Vincent de Paul School, the enrollment increased by fifteen percent.
In September 2008, Mrs. Bowe was appointed curriculum officer for the northern Bahamas. Her responsibilities included the facilitation of curriculum initiatives for CBOE schools in Abaco, Bimini and Grand Bahama. Upon the retirement of the of then curriculum supervisor, Joan Rolle in 2011; Mrs. Bowe was appointed curriculum officer for the entire Archdiocese.
A humanist by heart, Mrs. Bowe firmly believes that all children are able and that it is the duty and responsibility of educators to help them determine what they are able to do well. In her view, once this is established, educators are called to propel their students in the direction that supports their dreams and aspirations. She truly believes that our Roman Catholic schools share her principles of giving every child the opportunity to be whomever God has called them to be. She is a strong supporter of Catholic Education because though academics are important, The Bahamas Catholic Board of Education is of the view that our schools are more than places where students simply learn facts; every student is motivated to gradually develop his/her intellectual, physical, psychological, moral and spiritual capacity. In essence, providing all with the tools necessary to live a comprehensive way of life.