GETTING READY FOR EDUCATION TRANSITIONS
Primary School to High School
Making the transition from primary school to high school can be an exciting yet daunting undertaking for children. Progressing to a new school level usually means bigger school buildings, larger student bodies, more choices and more freedom.
When parents work together with their children to help navigate the changes from primary school to high school, the result is a confident teen ready to try new experiences, develop new friendships and set high expectations for success.
The transition is initiated by registering, sitting the exam and being accepted into the institution of choice. Parents should consider the following factors when looking for a school: Safety, core values that align with theirs, sound and progressive curriculum, academic support avenues and extracurricular opportunities that meet the needs of their child.
For most schools, the Entrance Examination is an indicator to the school that the student has successfully grasped the foundational concepts to be able to move forward with what the institution deems mainstream. Areas covered on the exam include Math and English Language (Comprehension and Writing included). Once these areas are competent, all other areas with effort and practice will fall into place. Skills required to be successful on the exam are mastered by the end of grade five.
Once accepted to High School, this new academic journey still requires parental involvement as an integral part. Showing interest about the day through discussion at the dinner table, monitoring their phone use and social media are ways that parents can stay "in tune" with their children. Parents should make a special effort at least once per semester to have a face-to-face conference with their children's teachers particularly in subject areas where there is cause for concern. Parents are advised to never wait until end of terms exams are approaching to inquire about their children's progress. Schools have a myriad of user-friendly grades monitoring tools, 2 such as Power School, which allows parents to monitor how their children are performing or lack thereof.
High School to College
The steady progression into high school brings with it the most highly anticipated graduation year but prior to this Internal exams and External examinations are administered to access student achievement both Nationally and Internationally. By the ninth grade BJC's are taken and by grade twelve BGCSE's are taken. Allowances are made to take these exams a year prior for certain subjects but criterion would have been established for those students eligible to do so. The SAT and ACT are International examinations which both are indicators of College Readiness and used for scholarship and placement purposes.
Going to college is considered to be a rite of passage. Moving onto college represents a significant step towards adulthood; however high school students have to negotiate a vital process before embarking upon tertiary education.
It's important that parents are supportive of their children's dreams, but also realistic. With the assistance of school counselors, parents and children can map out a plan of coursework that leads to the dream post-secondary option.

High school students should start thinking about colleges and careers that might be a good fit and start exploring those areas early. Career and college fairs are good places to start. This helps students to start to picture themselves at a tertiary institution. It also helps them ensure that their transcripts look the way they want it to look when they graduate. Students should work on building a scholarship portfolio. The more they are involved in extracurricular activities, leadership and volunteer opportunities, the better their chances of securing partial or complete scholarships.

High school students should seek out internships, job shadows and summer jobs that align with the careers they are interested in to get experience and begin the process of networking in their intended field.
During this time, both parent and child have the opportunity to grow, change, and develop in terms of their own identities. In these new configurations of independence, the relationship scale tends to tip more in the direction of parents acting as advisors, mentors, and yes, even friends. Children will look to their parents for support and guidance. 3 Transition means change, and at each junction, growth should take place. A successful student is one who is willing to make sacrifices, one who is dedicated and motivated and most importantly one who is organized with realistic plans for future endeavors. During this period of matriculation, students must be cognizant of the purpose God has for them. Jeremiah 29:11 states: For I know the plans I have for you declare the Lord, plans for welfare and not for evil, to give a future and hope.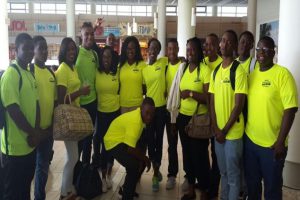 Members of the Aquinas College Class of 2016 & Class of 2017 and St. Francis de Sales School seniors prepare to embark on the Annual Aquinas College Road Trip.